As promised, I am telling you why we we've been cleaning our offices these past couple of weeks. I wish I could be telling you something entertaining, but unfortunately, I can't.
The owner of Aloha Tower Marketplace has decided to change management companies. I technically work for MMI Realty; as of January 4, PM Realty Group will take over. My last real day of work at Aloha Tower Marketplace will be December 31 (or January 1, depending on how you look at it!).
It's sad for me—and all of us—because this isn't really about the loss of a job. It's about losing coworkers who have become friends who have become like family. I guess it's easier this way, though, with all of us scattering at once. Kind of like ripping off a band aid.
It's been an amazing four years, and it's hard to believe that I've been here that long. Along the way, I met some of the quirkiest characters, learned some unusual things, and participated in what I've called the best freak show in town. More than that, I got to work with some of the best team players of my life, and made the denizens of Aloha Tower Marketplace my community. My friends & family became their friends & family, and vice versa. Coming to work wasn't really coming to work. I was "on" 24/7 because, although I joked about it, coming to work really was like coming home.
Just so you understand how MMI Realty/Aloha Tower Marketplace restored my soul: When I left my last job, my blood pressure was at stroke levels and my doctor put me on medication. When I got here, my blood pressure plummeted and I haven't been back on the medication since. A lot of times, you'll find me crying here at work…because I've been laughing so hard.
People have been asking what I'll be doing next. Well, this blog will remain. I've been freelancing for Metromix.com and some other publications, so I'll continue with that if there is a need. There's also an incredible amount of flack work. So, while I may not identify with a particular company, I'll be working on my own identity for now.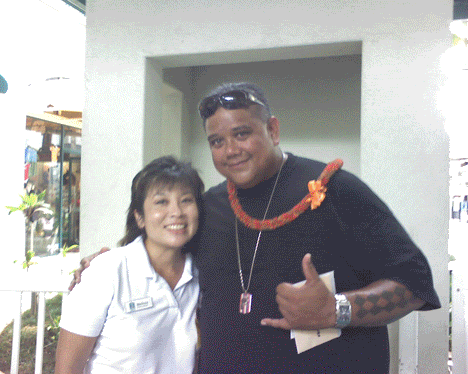 During my final week, I will probably count down to the new year with reflections on some of my notable (printable) memories from Aloha Tower Marketplace with you. In the meantime, I hope you'll be able to join us for our going away party on New Year's Eve. We're going to have fireworks and everything! How many people can do that on their last day of work?
If I sound optimistic amidst this sadness, I am. Things happen for a reason.A few months ago, Marshall Hickox of Homeworks Construction wisely commented on his business move in this tight economy with, "This is an ideal time to take control of your own destiny."
I'll let you know if he's right.